5L Double-Layer Jacket 5l Glass Reactor adopt double-layer glass design. The reaction solvent is put in the internal layer to do the stirring reaction, and different cold and heat sources (refrigerating fluid, hot water or oil) can be connected to the interlayer to do circulating heating or cooling reaction. Under the condition of the given constant temperature, the stirring reaction can be done under normal or negative pressure in a closed glass reactor, as well as the backflow and distillation of the reaction solution. It is an ideal pilot-plant and production equipment for modern fine chemical industry, bio-pharmaceutical and new material synthesis.
Specifications of S212 Laboratory 5L Double Layer Jacketed Glass Reactor
Basic Parameters
Model
Single layer glass reactor
Volume of the reactor bottle
5L
Glass material
GG-17
Main body
Stainless steel
Number of covered bottle
5
Reaction temperature of the reactor
-80-250℃
Degree of vacuum
0.098Mpa
Stirring speed
0-800pm
Stirring
shaft diameter
8mm
Motor Power
90W
Heating power
2KW
Voltage/Hertz
220V/50Hz
Whole size
430*330*1200mm
Plate size
410*325mm
Pot gall size
Stainless steel    280*170mm
Packing size
1000*480*480
Packing weight
30kg
Function Device
Speed regulation method
Electronic variable speed
Rotating speed display mode
Number display
Pot temperature display mode
Number display
Sealing method
PTFE material seal,¢50 Flange
stirring port
Condenser
Vertical 60*450mm 24#Standard port
Drop wise
500ml Constant pressure funnel 29#Standard port
Pressure reduce device
24# standard port  pressure reduce valve
Temperature test tube
24#Standard port
Collecting device
Two adapter headband with collection bottle
Vacuum display method
Vacuum table
Stirring connection method
Universal joints
Stir bar
Described stainless steel rods, outsourcing PTFE
Optional Device
Explosion-proof
Explosion-proof inverter/Explosion proof motors EX60W  0-1400rmp
Kettle temperature display
Optional digital display
Discharge device
PTFE discharge valve flange ¢ 60
Heating device
electric heating jacket heating
Our laboratory equipment can be customized according to customers actual needs .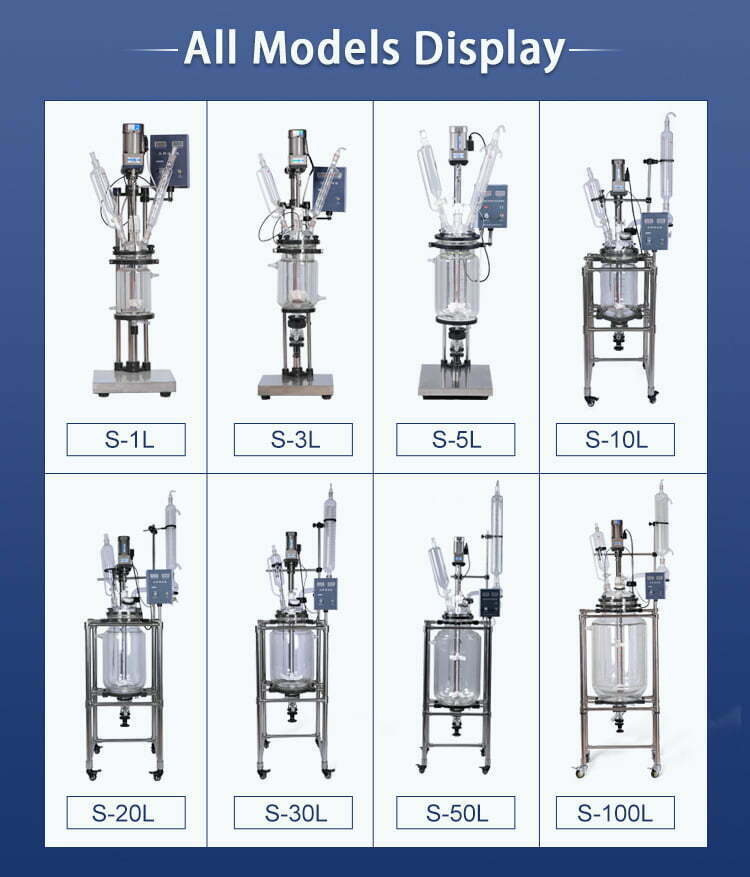 Product features of S212-5L double-layer glass reactor:
1.Vacuum stirring reaction;
2.High and low temperature reaction;
3.Constant speed operation blending reaction;
4.Distillation, backflow, concentration;
5.Negative pressure operation, skimming function;
6.Rectifying by assembling rectifying column;
7.Phytoextraction has better process effect in concentration;
8.Stirring separating, equipping with skimming device, effect is obviously;
9.Conduct reaction and production of ultrafine powder, sanitation class made medicine is extremely clean;
10.Be able to replace rotary evaporator to do high purified material concentration, equipped ultrasonic stirring reduced reaction time multiple;
11.No matter separate or compound, convenient to charge, easy to handle.